Food Drive for E. Blair Warner Patients: May 14 – 29th
Faculty and Residents from the Memorial Family Medicine Residency Program are hosting a food and diaper drive for their patients at the E. Blair Warner Clinic. The E. Blair Warner Clinic is a safety net clinic downtown South Bend which serves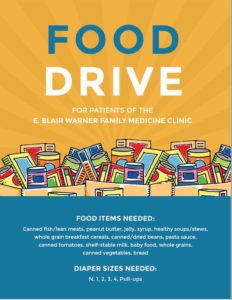 at-risk, vulnerable populations in the surrounding communities. Patient needs have been amplified amidst the COVID pandemic – many are out of work, unable to make ends meet, and are having difficulty supporting themselves and their families.
They are now accepting donations of food staples (see below) and diapers in collection bins located at Memorial Hospital. Bins are located:
Outside the Gift Shop
Physician Lounge
E. Blair Warner Clinic
Every donated item will go directly to patients in greatest need. Distribution will happen on Saturday, May 30th from 10 am – Noon. Donations will not only provide for the basic needs of these families, but they are also a symbol of Beacon's support for our community. If you have any questions, please contact Tina Jennings at kjennings@beaconhealthsystem.org.
Click here to make a monetary donation. In the "Designation" drop down, choose "Other" and type: FMR Food Drive.
Beginning now, you can drop off the following items at any of the bin locations: 
Canned fish/lean meats, canned chicken, canned salmon
Peanut butter
Jelly
Syrup
Healthy soups/stews
Whole grain breakfast cereals
Canned or dried beans
Pasta sauce, canned tomatoes
Shelf stable milk
Baby food
Whole grains
Canned veggies
Bread
Diapers: sizes N, 1, 2, 3, 4, 5, and pull-ups